The third day of our West Coast trip was a HUGE day. We saw some iconic things and drove a lot of miles.  Driving through Amarillo, TX we had to stop at the Big Texan. It is, after all, the Home of the 72oz Steak!  We took pics and the kids played shooting games. We did not stay and eat…we had more stuff to see.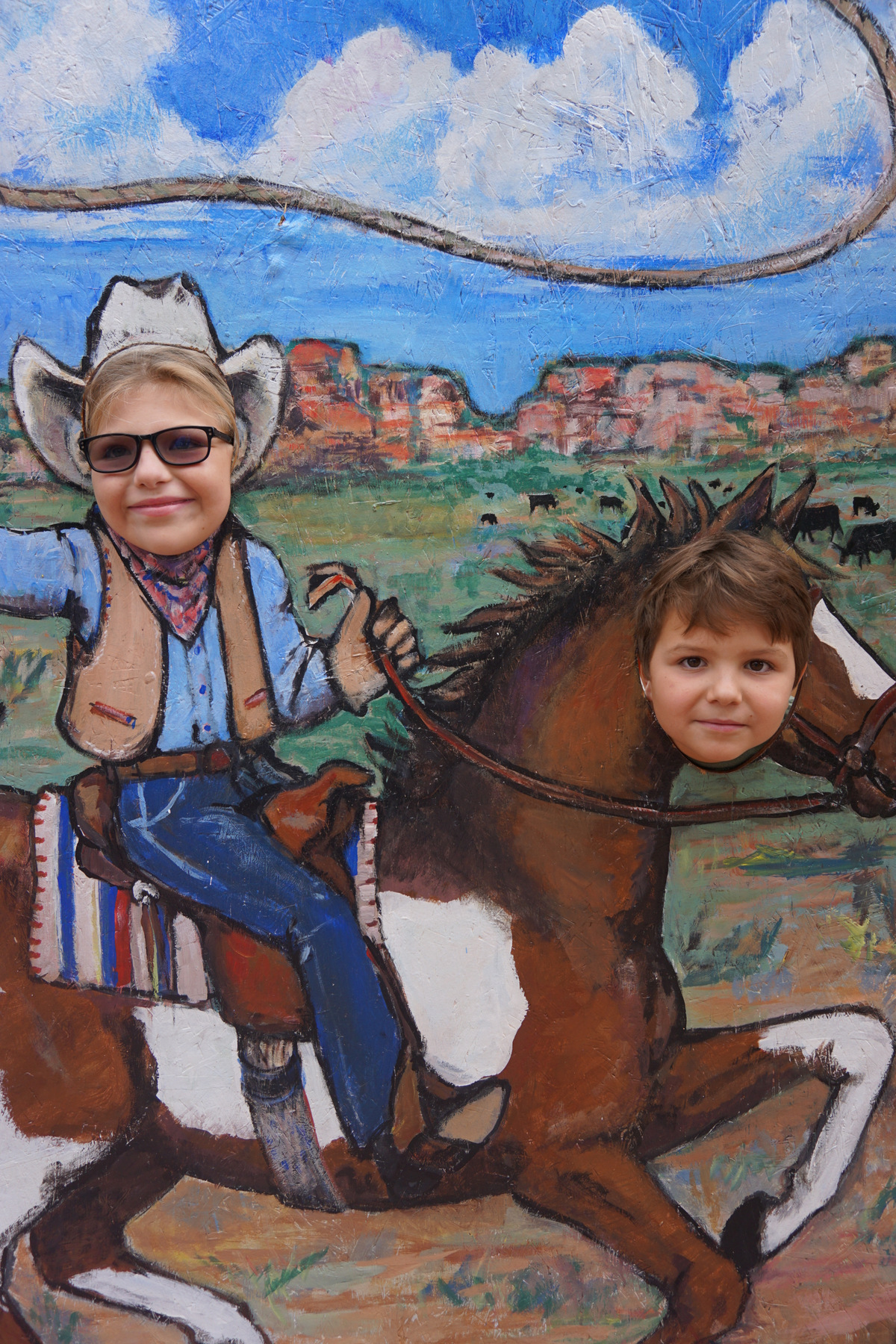 Our next stop in Texas…The Cadillac Graveyard! This place is a kid's dream.  Where else can you graffiti cars and not get in trouble? These cars are literally being held together by paint on top of paint. They are wonderful abstract art. Even our dog Stella got in on the action. The downside to this "attraction" was that the ground was soaking wet from a massive rain.
So, everyone has heard of Route 66, right?  The Whitneys stumbled across the Mid Point of it.  Who knew there would be a little monument for it and a cute little gift shop and diner!? Jack and Maggie loved the real sized Mater (from the movie Cars).  We did our due diligence and took advantage of all of the photo ops. Onward we continued!
New Mexico here we come!! I told you we drove A LOT!  Our next stop was just a shot in the dark. We had no clue what the Blue Hole was. We saw a billboard and took the exit. As a matter of fact, we went to the wrong "park" first. I told Chad that I thought we should just get back on the road because this was going to be a bust.  I mean we were in the middle of what looked like an old, poor neighborhood.  Boy was I WRONG!  Like really wrong!! The Blue Hole in Santa Rosa, NM was one of the biggest highlights of the trip. If you ask my kids, they would probably say it was their favorite. The Blue Hole is a crystal clear 81ft deep fresh water spring. It was so cold. A whopping 61 degrees. Chad and the kids were the brave ones.  I couldn't get my butt in the water.  When I stepped in, I could feel my legs tingling.  They were real troopers!
After playing around in the freezing cold water for a couple of hours, we gathered our things and hit the road to our final destination for the day. We found this neat place called Red Rock Park in Gallop, NM. Like most of New Mexico, it was all brown and dusty looking, but they had Prairie dogs!  Yes…prairie dogs. This was a first for all of us.  We had never seen these rodents before.  They were kinda cute and my son got the biggest kick out of them.
This was also the same night that Chad finally figured out what our A/C problem was in the van.  He had to rewire the whole thing. It made for a rough evening.  Needless to say we picked up fast food and went straight to bed!
Total Miles for the Day: 560ish